Unsung Heroes Life as a bricklayer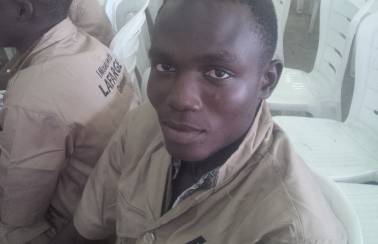 Muiz Alabi is a 25-year-old bricklayer from Mainland Local Government Area in Lagos. He started working as a bricklayer when he was 17 years old having been inspired to follow the career path of his father after seeing the wonders he performed with buildings.
"I love what I do," says Muiz. "I didn't want to rely on the traditional method of apprenticeship, so after my basic education, I proceeded to the Government Technical College, Ado Soba, Lagos to study Block laying and Concreting. Many people think our work is crude, but such people are only stuck in the past. I am sure that in about 10 years' time, bricklayers who can't read and write won't be able to keep up with the changes in the industry."
Muiz came to this conclusion when he noticed new equipment were being designed to make bricklaying easier and faster. He holds that without being literate, it may be hard to work with these equipment.
"These machines come in different shapes and sizes now, and if there is an instruction on it that says "press" for instance, and you can't read, you'll end up doing something else which will either spoil the machine or injure you," he says. "That's why I chose to go to school while also learning bricklaying the traditional way."  
For Muiz , bricklaying is only difficult when the right tools are not used for the work. I hope to be one of the leaders in the industry by quickly adapting to changes and adopting innovations as they evolve.
17-year old Ismail Oyebamiji has been practicing the profession for a year. Like Muiz he grew up observing the pride with which his father worked as a bricklayer. "With a few projects he was able to take care of us and even the apprentices that worked under him earned money", Ismail said.
His father sent him to a technical college when he told him he wanted to join the business. Learning the basics of bricklaying is a crucial first step. "I am almost through with the school and I am already going to the site with my father and his boys."
He says refresher trainings and workshops go a long way in improving technical know-how. Ismail is still learning the ropes and is yet to begin his own practice but looks forward to mentoring others one day. "I am eager to begin my own practice and make money and eventually pass the knowledge to other youths," he says.
As for 20-year-old Olaniyi Oluwatobiloba, he began his journey as a bricklayer from the Universal Learn Direct Academia (ULDA) programme, a company designed to teach building and construction vocational skills.
Olaniyi is fascinated with the idea of being able to export his knowledge as a bricklayer outside of Nigeria. Currently, he sees people hiring professional tilers and bricklayers from outside the country and wants this to stop. But his aim is to become a household name in the industry such that he can export his expertise to all parts of the world especially the United Arab Emirates.
Samson Sude, from Badagry is over 50 years old. He has been a master bricklayer for more than 30 years. "Bricklaying work has been my life. I have done all the necessary things a man should do with this career. I have sent my children to school and also taught them this work and they are also doing well," he says.
He is particularly grateful to Lafarge for touching on safety during the training.
"That part touched me a lot as I am able to see some of the risks I have been taking for a long time. Now I know better," Sude who is also a member of the LSBA Task Force says, launching into a long prayer session for Lafarge and its employees.
One common attribute these bricklayers all share is that they are passionate about their job. All of them chose the profession and are proud of it. While we give all the accolades to architects and building engineers, we must not forget that they all depend on bricklayers to succeed.