Lafarge Africa Plc at a Glance
OUR BUSINESS OPERATIONS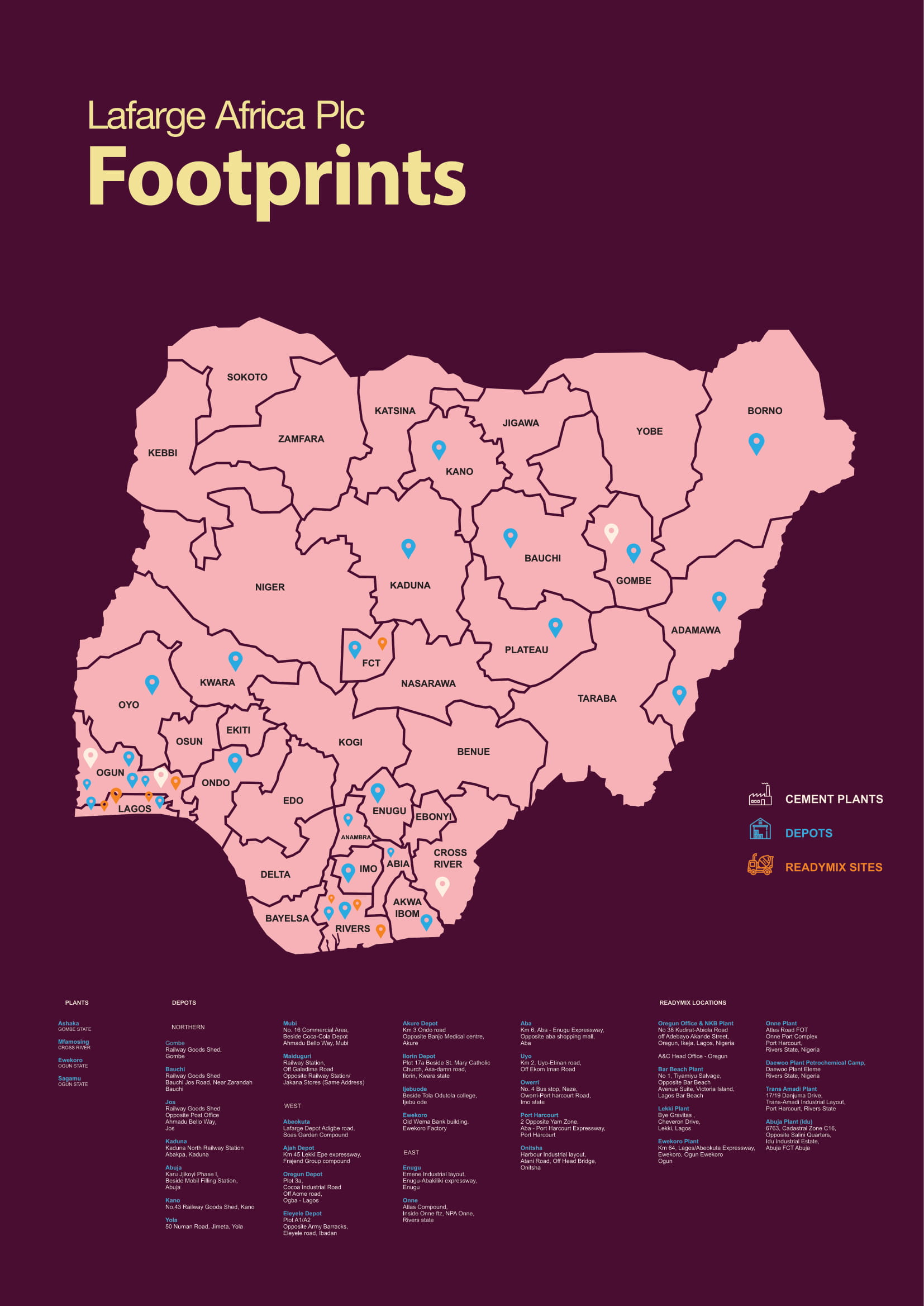 South-West Operations
Our South-West Operations has three plants, one in Sagamu and two in Ewekoro, all in Ogun State with a current production capacity of 4.5MMT. The product portfolio includes five brands: Elephant Cement, a general purpose cement - a multi-use product suitable for majority of the applications; Supaset, a fast-setting and rapid strength gaining cement specifically designed for the needs of the block-makers; Powermax, a high strength cement for the sophisticated contractor segment; Supafix, a tile adhesive used for floor and wall tiling; Etex, a high performance cement designed to the customer's specification for tile manufacturing and SRC, a sulphate resistant cement for coastal construction.
Southern Nigeria Operations
Our Southern Nigeria operations comprise of a cement plant in Mfamosing, Cross River state and a product distribution hub in Port Harcourt, Rivers state. The Mfamosing plant is a modern production facility with an annual cement production capacity of 5MMT. It was originally established in 2002 as United Cement Company Nigeria (UNICEM) Limited, after the acquisition of the assets of moribund Calabar Cement Company (CalCemCo). 
In 2012, the plant's product portfolio was expanded to offer customers two cement products catering for general purpose and specialized applications. An additional manufacturing line with a production capacity of 2.5MTPA was commissioned in 2016 to bring the total production capacity of the plant to 5MTPA and is now the single largest cement production site for Lafarge Africa.
The distribution hub in Port Harcourt was the previous Atlas Cement Company Limited commissioned for operation in 2001 as a bulk cement import and bagging terminal within the Federal Ocean Terminal, Onne. The plant was operated on a floating vessel, which had a nominal bagging capacity of 500,000 metric tons of cement per annum.
Northern Nigeria operations
Ashaka Cement plant in the North East region also focuses on providing creative and qualitative solutions to meet the needs of both small and large scale projects. In the last 3 decades, Ashaka Cement plant has contributed immensely to the economic growth and development of North-Eastern Nigeria and is well positioned to continue to impact the ecosystem of the region.
Ashakacem Limited was incorporated in August 1974 and commenced production in 1979 as a cement manufacturing and marketing company under the name Ashaka Cement Company Limited. The company was initiated by the defunct Nigerian Industrial Development Bank (NIDB) Limited, the Nigerian Bank for Commerce and Industry (NBCI), Northern Nigeria Investment Limited (NNIL) and the Government of the then North-Eastern state (now Adamawa, Bauchi, Borno, Gombe, Taraba and Yobe States). Current annual cement production of the plant is 1MMT with plans for expansion. 
Readymix Operations
Lafarge Africa is a market leader in quality concrete solutions. Leveraging the Holcim Group's global experience in the readymix business, it produces quality and innovative concrete and aggregates solutions for small and large construction works.
Lafarge Africa's Readymix operations are currently in Lagos, Abuja and Port-Harcourt, as a project enabler, driving quality and innovation as well as promoting a sustainable environment for generations to come.