By Folashade Ambrose-Medebem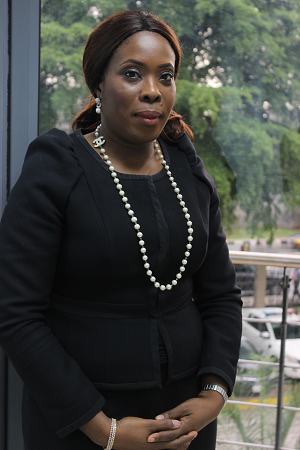 "Trees  are integral to nature in more ways than we realize – apart from providing habitat and food for birds, trees help absorb carbon dioxide that contribute to climate change. Trees also provide habitat, beauty, rain dispersment and harvest.   Even fallen tree leaves have an effect in reducing soil temperature.  Tree planting is a good way of connecting people to nature," says Folashade Ambrose-Medebem Director of Corporate Communications, Public Affairs and Sustainable Development at Lafarge Africa Plc.
She was speaking at a recent tree planting event in partnership with the Lagos State Government to mark the World Environment Day. In line with this year's theme, "Connecting People with Nature", employees of Lafarge Africa Plc in Nigeria planted trees and took part in environmental awareness campaigns. Over one thousand trees were planted by hundreds of employees in locations including Mfamosing, Cross River state, Ashaka and Maiganga in Gombe state Ewekoro and Sagamu in Ogun state and Lagos. 
For Lafarge however, protecting the environment and sustainability goes far beyond an annual ritual of tree planting. According to Mrs. Ambrose-Medebem, "Lafarge Africa's strategic aspiration as an industrial company is to conduct business with zero harm to people and the environment."  According to her, "Sustainability is also about taking practical steps to reduce the emission of carbon dioxide across our operations; it is about providing better quality environment; friendly building solutions; it is about improving on our health and safety performance as a company and contributing to the long-term social, environmental and economic development of the country".
Lafarge Africa is committed to a Sustainability Strategy 'The 2030 Plan.' The 2030 Plan which is a triple bottom line approach and focuses on four key fields of action: climate, circular economy, water & nature, people & communities. These all aim at protecting the climate throughout the entire construction chain; developing innovative products and solutions for building energy efficiency; promoting a business model that preserves and optimizes natural resources and promotes the development of communities. Lafarge Africa's sustainability initiatives are consistent with the United Nations Sustainable Development Goals (SDGs).
LafargeHolcim is one of the most carbon efficient cement companies in the world and it continues to do more. With a resolute ambition to reduce carbon emission in its cement production by 40 percent by 2030, the journey to that target appears quite feasible. From the 1990s till date, the LafargeHolcim group has already attained about 26 percent reduction in net specific CO2 emissions per ton of cement produced.
Here in Nigeria, Lafarge is well aligned to this global target. Emission reduction makes environmental and economic sense. According to Folashade, "Nigeria is in full alignment with our global vision of constantly working to reduce energy consumption and carbon emission at all stages of our production process, wherever it is feasible by improving process mastery and sourcing electricity from renewable sources." There are a number of milestones to validate this.  Lafarge Africa is already substituting fossil fuel with the use of renewable energy (fuels from biomass and other wastes) at its Sagamu and Ewekoro plants. There are plans to spread the renewable energy successes in Ewekoro and Sagamu to other plants in the company.
Biomass, an environment-friendly source of fuel generation, converts plant and animal waste into energy e.g. electricity and heat. Biomass energy can be derived from five distinct sources: garbage, wood, waste, landfill gases, and alcohol fuels. It can be relatively easily converted to other usable forms of energy like methane gas or transportation fuels like ethanol and biodiesel. In an age where the ozone layer has been subjected to various tortuous emissions, renewable energy sources such as biomass, lessen the effect of global warming.
Making use of our biomass energy resources such as agricultural waste keeps the money spent within the local economy. Throughout the entire production process, including production, transportation, storage, upgrading, and finally conversion, non-exportable jobs are created. Biomass energy resources reduce the need to source coal or other forms of energy elsewhere.
Lafarge Africa has also embarked on rehabilitating its quarries, whether limestone or coal mines, as part of its environment-friendly policies. "We are currently evaluating our current practices in order to design acceptable quarry rehabilitation programmes for all mines within the country.  The essence of this is to return the mining sites to conditions that are as close to natural as possible," says Mrs. Folashade Ambrose-Medebem.
To attain its ambitions, Lafarge Africa is exploring partnership opportunities with the Lagos State Waste Management Agency (LAWMA) and Ogun State Ministry of Environment to pre-treat municipal solid waste into usable fuel. "The overall ambition is to ultimately produce Refuse Derived Fuel (RDF) for our plants and help the municipality to reduce landfill problems" says Ambrose-Medebem.
The Lafarge Africa Sustainability Development Director also spoke of another partnership to recover 108,000 hectares of land which has been stripped of its forests as "a huge programme intended to create a complete new way of approaching re-forestation." The partners for the joint development of Ogun State Forest Landscape Restoration Project are Ogun State and the Nigeria Sovereign Investment Authority (NSIA)—a memorandum of understanding (MOU) has already been signed. These sustained efforts by LafargeHolcim have helped solidify its reputation as the most carbon efficient cement company in the world.
Mrs. Folashade Ambrose-Medebem passionately advocates the importance of protecting our environment, a continuing collective effort for both individuals and corporate organisations. She wants to see a world where everyone cares for the environment because in the words of Wendell Berry, the environmental activist – "the earth is all we all have in common". Mrs. Medebem believes that the fight against climate change is about fundamentally reshaping our economy, from the way electricity is generated and products are manufactured to how we design buildings, live and work. "That is why our climate change objectives concern not only our own industrial carbon dioxide emissions but also the wider construction sector. These objectives are one concrete illustration of how we seek to contribute to Building Better Cities," she concluded.