300 Bricklayers, One Classroom.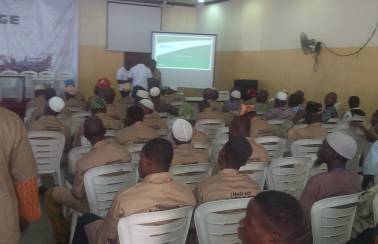 The atmosphere was electric. It was like a big reunion for members of the Lagos State Bricklayers Association on Thursday, April 12, 2018 at the Vginis hall, Yaba Lagos where over 300 bricklayers had gathered for training.
As they arrived at the venue in batches, the bricklayers changed into brand new khaki overalls, provided to them as souvenirs by their host. The training was organised to help the bricklayers keep up with the evolving trends in the industry.
According to Engnr Bukola Adebisi, Technical Services Manager, Lafarge Africa, who was also one of the facilitators at the training, the program is aimed at helping the bricklayers in the country keep up to date with global standard practice in the industry.
The one-day training covered core areas of bricklaying such as concrete mix designs, cement application for special purposes, proper use of water in cement mixing, safety at height and issues on health care for the professionals.
Adebisi explained the connection between the efficient use of building materials and the economics of building. He said the little things that may seem inconsequential in the course of building construction usually account for a significant difference in terms of the overall budget. Using a video illustration,  the builders were helped to realise the dangers of using the wrong tool for work in the course of construction. The video also emphasized effects of occupational accidents not only on the bricklayer but also his family.
"Personally, I appreciate the training and as you can see all the bricklayers in this gathering feel the same way" said Oyebamiji Taye Dauda, President of the Lagos State Bricklayers Association (LSBA).
Yetunde Ogeroju who leads the Strategic Marketing team for Lafarge said the training of bricklayers, blockmakers and other artisans is part of an overall strategy to position Lafarge as a solutions provider and not a cement seller."We are concerned about the safe and sustainable use of our building solutions to provide housing and infrastructure for respective stakeholders" Yetunde concluded.