Lafarge Leads Production of Eco-Friendly Cement in Nigeria
Image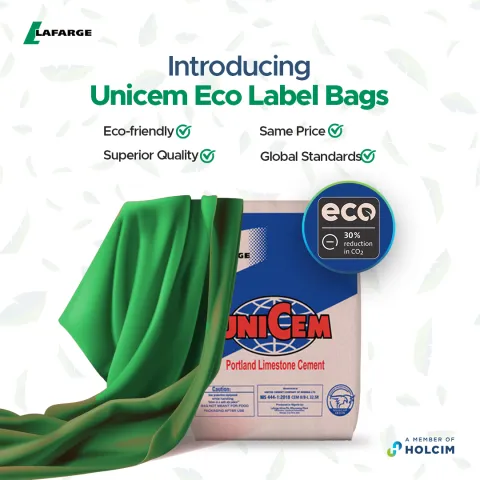 The concern over the impact of carbon emissions on the global climate has increased in recent years due to increased awareness of global warming. Indeed, there's a growing awareness of the need to reduce CO2 emissions around the world, Nigeria inclusive. 
As Nigeria begins to move towards its net-zero carbon emission target by 2060, businesses in all sectors must reduce their CO2 output. As one of the biggest contributors to greenhouse gases, the manufacturing sector has a huge role to play. According to Enerdata (2020) Global Energy and CO2 data, the production sector is responsible for 12% of Nigeria's carbon emissions - consuming a large percentage of the country's energy sources – there is therefore an urgent need for manufacturing companies to address the challenges of decarbonization. 
While it is daunting for the sector to completely eliminate those emissions, experts believe that there are ways it can be reduced and balanced to reach a point of carbon neutrality. By addressing the machinery and raw materials organization uses, including how and where they are sourced, applied and maintained, they can reduce their emissions to support important environmental causes. 
One company that has embarked on this promising initiative successfully and set benchmarks in the Nigerian market is Lafarge Africa PLC, a member of the Holcim Group.  Lafarge UniCem brand which contributes about 23% of the entire volume is now eco-friendly.  The products that are certified to be eco-friendly have a lower 30% carbon footprint compared to the local industrial standard. (Global Concrete & Cement Association) 
By the production of this eco-friendly cement, Lafarge's end user customers have the opportunity to make greener choices and accelerate the country's carbon reduction journey in the manufacturing sector.  
"Lafarge Africa is proud to be the first local cement manufacturer of eco-friendly cement in the Nigerian market. With the rollout of this Eco brand, we are accelerating the transition to more sustainable building materials for greener construction," said Khaled El Dokani, Country Chief Executive Officer, Lafarge Africa Plc. 
"We are proud of turning our net zero pledge into action with our broad range of green building solutions. The EcoLabel is a key milestone on this journey, confirming our group's commitment to leading the way in sustainability and innovation," El Dokani added.
Reflecting further on Lafarge's commitment to supporting sustainable building in the exceptionally competitive local market, El Dokani stated that "the development of these unique products, combined 
with our holistic customer service, differentiates Lafarge in the marketplace by enabling us to work closely with our customers and offer them better value solutions for their building needs." 
Gbenga Onimowo, the Commercial Director of Lafarge Africa Plc remarked: 'With this EcoLabel endorsement, Lafarge Africa is offering the consumer "opportunity to eco-friendly choices" - that is despite the company's drive to produce superior products within safety standards, it does not impact the price to the consumer. EcoLabel will help the company's customers identify at first sight the environmental impact of their purchasing choice, thereby establishing trust in what they are buying.
Lafarge Africa ensures that it employs sustainable and innovative solutions to reduce its carbon emission levels throughout its extraction, processing, manufacturing, transportation, and distribution processes. 
Lafarge places a high value on the use of non-fossil fuels in its plants. As an alternative fuel, it uses mixed industrial waste, agricultural waste, tyre chips, and biomass to power its kiln. In 2021, the building solutions giant achieved a global Thermal Substitution Rate of about 9.4% compared to 9.3% recorded in 2020. 
In collaboration with its Switzerland Technology Centre and over 210 researchers at its industry-leading Research and Development Centre in Lyon, France, the building solutions company continues to identify local alternative materials that can be co-processed and used as a component of its products.
Using cutting-edge technologies, it has remained steadfast in its journey towards achieving the targets mapped out in its Group's ambitions to produce 40% less net CO2 per tonne of cement and 520 kg net CO2 / tonne of cementitious material.
Our Geocycle operations provide us with alternative materials to be used in our manufacturing processes such as plastic and agricultural waste, construction and demolition waste, and recycled steel," said Hannes Diedericks, the Industrial Director of Lafarge Africa Plc.
According to him: "By implementing this practice, we are reducing our greenhouse gas emissions and giving non-biodegradable waste new use, rather than clogging landfills and contributing to plastic pollution." 
As an excellent alternative adopted in reducing greenhouse gas emissions and aiding the fight against global warming, Lafarge Africa kicked off a "Green Logistics" initiative in 2021 with the launch of 52 natural gas (LNG) fueled trucks to promote clean energy and a safe environment. The implementation of natural gas-powered trucks has improved its environmental performance as LNG generates 30% less carbon dioxide than fuel oil and 20% less than diesel. The company has a target of increasing to 200 LNG trucks over the next 2 years. 
Lafarge Africa continues to build and leverage its commitment to sustainable development through effective management in line with global trends in Environmental, Social, and Governance (ESG). As the foremost innovative and sustainable building solutions provider, it has retained a culture that reinforces innovation, influence, and impacts through its strategic sustainability pillars. Being a member of Holcim, the four sustainability pillars – Climate and Energy, Circular Economy, Environment, and Community have served as the bedrock for entrenching sustainability into its core and essence. 
Lafarge Africa is also making giant strides through deliberate efforts as it journeys to 2050 and commits to its net zero ambitions.  EcoLabel will definitely play a key role in this journey.