Lafarge Flags off Medical Outreach Programme Benefiting Over 6,000 People in Ten Cross River Communities
Image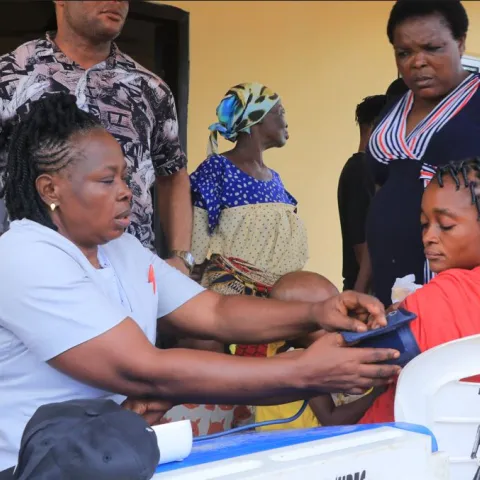 Lagos, Nigeria, Monday, May 15, 2023. Leading innovative and sustainable building solutions company, Lafarge Africa Plc, has flagged off its annual medical outreach programme benefiting thousands of people in its host communities of Akamkpa, Akpabuyo and Calabar municipalities in Cross River State.
Facilitated by the State's first Lady Dr. Lynda Ayade's Mediatrix Development Foundation, the medical outreach which kicks off on Tuesday, 9th May 2023 and run till 2nd June 2023 will feature health education and sensitization on some health topics, malaria, HIV, Eye and other medical tests, medical consultation and free medication.
Speaking during the flag-off ceremony of the outreach at Abiati Community Health Centre, the Commissioner for Health, Cross Rivers State, Dr. Janet Ekpenyong commended Lafarge Africa for always supporting the state towards actualizing an effective and efficient healthcare sector through its corporate social responsibilities and urged other multi-national companies' resident in the state to emulate same gestures.
According to her, Lafarge has been supporting the government in strengthening the health and education systems in the state by taking service delivery closer to the people. "They've really keyed into Cross River State Government's vision of ensuring that we can take healthcare services closer to the people and through our collaborations we've indeed touched a lot of lives. We've been to several communities for medical outreach and they have also built a lot of health facilities. So, we are very grateful and thankful to Lafarge."
"A functional health system is not just the responsibility of the government but that of everyone, and Lafarge over the years has been a dependable organization, by bridging the gap of access to health care and availability of care," she added.
In his remarks, the Plant Manager, Lafarge Africa Plc, Sitirios Valsamakis, who was represented by the Communications & Public Affairs Manager, South East, Inyang Bassey, said the medical outreach is in line with the company's corporate social responsibility pillar of health and safety conducted across the ten host communities to promote good health and improve the socio-economic wellbeing of vulnerable members of the communities.
According to Bassey, over six thousand members of the host communities benefited from the company's health interventions last year adding that the scope has been expanded to ensure sustainability and ownership, and to increase the uptake of health services in primary healthcare centres. The targeted communities are Mfamosing, Mbobui, Abiati, Ekong Anaku, Akansoko, Akwa Ikot Effanga, Essien Town, Kasuk, Diamond and Obutong.
Corroborating the support Lafarge has over the years rendered to bring succor to members of their host communities through health interventions, education among other projects. The Chairman, Community Relations Committee, Ntufam Alphonsus Bassey said: "Lafarge is a gift, they have been intervening in free medical treatment in our communities and they provide other initiatives like skills acquisition. They offer what we call elderly support, supporting our elders in one way or the other. In fact, they have contributed to our lives in so many ways and we are so grateful to Lafarge."
"I want to say that this is a very important activity and we thank Lafarge and the state government for coming to the aid of Abiati community and the other communities. Today, we are offering free medical services ranging from general consultations to quality medical advice, drug dispensing, HIV counselling, as well as eye care services among others," Jeffery Adamade, Chief Operating Officer, Mediatrix Development Foundation said. 
Another beneficiary, Lawrence Asuquo who spoke on behalf of the residents and who got a free pair of prescription glasses after his eyes were duly examined by medical experts couldn't contain his excitement and appreciation to the building solutions company. "I am happy with Lafarge for what I've seen today. I am more than happy and I appreciate them. May God continue to help Lafarge."
#####
About Lafarge Africa Plc
 Lafarge Africa Plc, a leading Sub-Saharan Africa building solutions company is a member of Holcim Limited, a world leader in building solutions accelerating our world's green transformation. Listed on the Nigerian Stock Exchange, Lafarge Africa is actively participating in the urbanization and economic growth of Nigeria, the largest economy in Africa.                                      
Lafarge Africa has the widest footprint in Nigeria with cement operations in the South West (Ewekoro and Sagamu in Ogun State), North East (Ashaka, in Gombe State), South East (Mfamosing, Cross Rivers State) with Ready-Mix operations in Lagos, Abuja, and Port Harcourt. Lafarge Africa has a current installed cement production capacity of 10.5Mtpa.
Lafarge Africa leverages its innovative expertise to provide value-added products and services solutions in the building and construction industry in Nigeria. Additional information is available on the website at www.lafarge.com.ng
About Holcim
Holcim builds progress for people and the planet. As a global leader in innovative and sustainable building solutions, Holcim is enabling greener cities, smarter infrastructure and improving living standards around the world. With sustainability at the core of its strategy Holcim is becoming a net zero company, with its people and communities at the heart of its success. The company is driving the circular economy as a world leader in recycling to build more with less. Holcim is the company behind some of the world's most trusted brands in the building sector including ACC, Aggregate Industries, Ambuja Cement, Disensa, Firestone Building Products, Geocycle, Holcim and Lafarge. Holcim is 70,000 people around the world who are passionate about building progress for people and the planet through four business segments: Cement, Ready-Mix Concrete, Aggregates, and Solutions & Products.
More information is available on www.holcim.com
CONTACT
Ginikanwa Frank-Durugbor
Head, Corporate Communications
Ginikanwa.frank-durugbor@lafarge.com